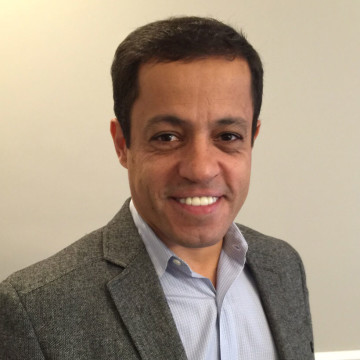 Owner – Renato Valentim
Mr. Renato Valentim is an international entrepreneur and sports fan. Mr. Valentim's business successes include being the co-founder and CEO of the Boston City FC soccer organization, being an international real estate developer, and being one of the owners of the successful restaurant chain, Tavern in the Square. These successes demonstrate how Mr. Valentim's hard work and ambition turned his dreams into realties.
Mr. Valentim was born in 1970 and raised in Minas Gerais, Brazil. The businessman and restaurateur is the oldest of five children. During his teenage years, Mr. Valentim worked for his father after school. At the age of eighteen, business-minded Mr. Valentim realized that he could make more money working with his father than for him. This realization led Mr. Valentim to boldly ask his father for a share of the company. Mr. Valentim's father dismissed Mr. Valentim, claiming he was being too ambitious for someone so young. Mr. Valentim however was determined to prove his father wrong. Shortly after that conversation, Mr. Valentim began working for one of the largest food distribution companies in Brazil. By age twenty-four, he had worked his way up to become the company's financial manager. Motivated to be successful, Mr. Valentim's entrepreneurial nature drove him to open his own business. He ran that business for five years, expanding into two locations. This was until he moved to the United States of America.
Despite not knowing English, Mr. Valentim was driven to search for new opportunities, so he left a comfortable life in Brazil with only $200 in his pocket and moved to Boston, Massachusetts on January 20, 1998. Mr. Valentim was determined to make something of himself in America, stay only five years, and then return to Brazil. Mr. Valentim knew that if he worked hard enough and put in long hours, he was destined for success. Within ten days of arriving in Boston, Mr. Valentim had a job working as a nightshift dishwasher at the Boston Beer Garden restaurant and began attending school for English lessons.
Always striving to improve, Mr. Valentim continued to push and educate himself. He was driven to climb the ranks in the restaurant industry. By 2003, Mr. Valentim had trained as a bartender and server, attending the Cambridge School of Culinary Arts, where he received his first American diploma, and took business school classes. Ultimately, Mr. Valentim's hard work paid off and he became the manager of the Boston Beer Garden restaurant.
Starting a life in new country is challenging. Mr. Valentim persevered and became financial stable. After building his savings, Mr. Valentim fulfilled another one of his dreams: buying a home in Boston. Mr. Valentim fell in love with America and the American culture. Although he had planned to return to Brazil, Mr. Valentim chose to stay and enjoy the life he had built in the States. Mr. Valentim knew he was on the verge of even greater success and was ready to welcome more opportunities.
In 2004, after recognizing Mr. Valentim's business acumen and growth in the restaurant industry, one of Mr. Valentim's bosses asked him to be a partner in a new restaurant called Tavern in the Square. Tavern in the Square opened in November 2004, in Central Square, Cambridge, Massachusetts. This location became the first of eight Tavern in the Square restaurants. Currently, Mr. Valentim is Tavern in the Square's Vice President of Business Development and Construction. Not surprisingly, the restaurant has enjoyed enormous success under Mr. Valentim's ownership. The chain employs over 1,000 people and plans to expand into surrounding states in the next few years.
In addition to his restaurant ventures, Mr. Valentim has become a proficient real estate investor. He founded a real estate development and investment business in 2009. This rapidly growing company holds several properties in the United States and Brazil.
Mr. Valentim's latest business venture is the Boston City FC. Like every young Brazilian boy, Mr. Valentim loved futbol, American soccer. In April 2015, Mr. Valentim partnered with Palhinha, a former Brazilian professional soccer player to create a professional soccer team and a training academy. Mr. Valentim's vision was to create an organization that would educate and develop soccer, and through this to develop teamwork and leadership skills among the youth. This new business venture also has the goal of providing affordable family entertainment to the public and building Boston's love for soccer. Mr. Valentim hopes to build a legacy, and for Boston City FC to be recognized alongside Boston's other great sports organizations.
Mr. Valentim lives in Winchester, Massachusetts with his wife and young two sons. In his leisure time, Mr. Valentim can be found playing in a recreational soccer league or training at the gym. Among his greatest personal accomplishments is running in the Boston Marathon, a race dear to the Boston community. Mr. Valentim also has his pilot's licenses and is learning to fly helicopters.
Mr. Valentim's keys to success are honesty and determination.

President – Palhinha
Boston City FC head coach Palhinha led the Lions to the NPSL playoffs in the club's inaugural season.  He made 16 appearances and scored 5 goals for the legendary Brazil national team having helped his club team São Paulo to two prestigious Copa Libertadores titles.
Palhinha won two Club World Cup championships, defeating Spain's FC Barcelona and Italy's AC Milan, with Palhinha the first to score for São Paulo in that game, and later with Cruzeiro, a team from his home state, he won another Libertadores da America, which was his third South American championship.
In 2006 Palhinha retired as a player to study sports management and started managing soccer clubs shortly after.  In 2011 he coached with a soccer academy based in California for three years, before moving to Massachusetts to help form Boston City Football Club.
At 10 years of age he moved to Belo Horizonte, the capital of Minas Gerais, due to his father's work, and in the borough of Venda Nova made many new friends playing soccer in the streets of his neighborhood.  There, like many famous Brazilian players, he caught the eye of the head trainer of the youth squad for Venda Nova Futebol Clube.
While playing for Venda Nova Futebol Clube, Palhinha began to play in preliminary matches alongside the adult squad, where he drew more and more attention to the point where at the age of 13 he was offered a contract by the Associação Esportiva Santa Tereza, another soccer team from Belo Horizonte.  He stood out so much from other kids his age that he was selected to play for the youth regional soccer team.  A director from America Futebol Clube (MG) invited him to play for the team in the capital and just like that, in less than one year, he became a professional soccer player at the age of 16.
For five years, from 1986 to 1991 he sported the colors of America Futebol Clube, where he built his name and career as a soccer player in the state of Minas Gerais and won the Player of theYear award, was the top goalscorer, was named Rookie of the year, midfielder of the year and most valuable player of the year.  He won the Troféu Guarda, which is kept in the state of Minas Gerais, which is one of the most important accolades for professional soccer players in Brazil.
In January of 1992 he was traded to São Paulo Futebol Clube, and by the end of May that year, he was already a coveted player, being the leading goal scorer with 7 goals in the Libertadores da America, having helped the team win the state championship. Those performances were rewarded with a long-term contract.
That same year, together with São Paulo Futebol Clube, he started racking up a number of championships such as Recopa Sulamericana, Super Copa Sulamericana, and the Torneio Ramon de Carranza and Tereza Herrea played in Spain.  He was selected to play for the Brazilian national squad 16 times, scoring 5 goals he participated in the US CUP played in the United States, the Copa America, and the preliminaries for the 1994 FIFA World Cup.
During four years playing for São Paulo, Palhinha won two Club World Cup championships.  In 1992 São Paulo defeated Spain's FC Barcelona by a score of 2-1 and in 1993 they defeated Italy's AC Milan 3-2, with Palhinha the first to score for São Paulo in that game. Also in 1992 and 1993, he led São Paulo to two prestigious Copa Libertadores titles.
In January of 1996 he was transferred to Cruzeiro, a team from his home state Minas Gerais.  Returning to his home state with the club he won another Libertadores da America, which was his third South American championship.
Later in his career he played for more international club teams in Peru, Spain, and Saudi Arabia. Throughout his whole professional career he collected a total of 31 championships and many individual trophies.
Of the 31 titles won over the span of his career the most important ones to Palhinha are: 3 Copa Libertadores da America, 2 Club World Cups in Japan, 2 State championships in São Paulo, 3 State championships in Minas Gerais, 1 State championship in Rio Grande do Sul, and 2 Torneio Sul Minas.

Managing Director – Craig Tornberg
Craig provides direction, guidance and strategy to the Boston City administrative and technical staff as well as the BCFC ownership group.
He started an independent soccer consultancy group after serving 18 years with Major League Soccer's New England Revolution. His career at the Revolution began in 1995 and he quickly became recognized as a leader in the league for revenue generation in ticket  sales.
Tornberg's rise within the organization saw him advance to the position of  general  manager, during which time the organization enjoyed success both on and off the field of play. He has continued his work within the game of soccer maintaining extensive contracts with organizations both domestically and internationally.

Communications Director – Michael Preston
Michael has a rich background in sports that spans four decades and six continents.  He was a newspaper sports editor and PR executive in his native England and spent six years working for the National Football League in London before moving to the United States in 2002.
His company Preston Consulting has handled media operations for numerous leagues, federations and events around the world, including the first-ever game of American Football played in Africa.  He has coordinated media for events in Japan, China, Australia, Tanzania, Mexico, Canada, and across Europe.
He is a former PR Director of the North American Soccer League and directed media operations for two CONCACAF Gold Cup events in New England.  In February 2018, he worked his 19th Super Bowl as a member of the NFL PR staff.

Entertainment Director – Victor Oliveira
Victor is responsible for all aspects of entertainment on home match days, from coordinating music and halftime shows to stadium annoucements.  A passionate soccer fan, Victor worked in multiple capacities for Boston City in the club's inaugural 2016 season.

Security – Scott Saia
BSG Security Management owner and operator Scott Saia, one of the top security specialists in the country, handles all event-staffing services for Boston City FC.  Scott is a graduate Malden Catholic High School where he played varsity soccer.
Scott, who founded BSG Security in 2013, is a cast member on the Emmy nominated hit A&E series Wahlburgers and provides security services to a wealth of celebrities, including Mark Wahlberg.  He created the Home for the Holidays Charity Street Hockey Tournament, which attracts hundreds of players and thousands of fans in Malden in support of local youth programs, and has raised thousands of dollars towards funding initiatives for the local community.
Scott studied Music Business Management at the prestigious Berklee College of Music and is also a respected popular music historian.  He manages security at some of the largest events in the country and has worked with celebrities besides Mark Wahlberg, including Ryan Reynolds, Will Ferrell, Sandra Bullock, Barbra Streisand, The Rolling Stones, One Direction, Dwayne Johnson, Jeff Bridges and Kevin Bacon.