Medford Soccer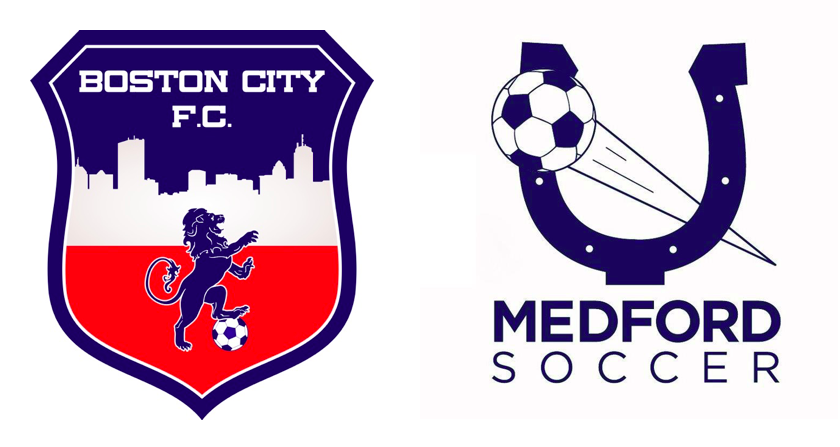 Boston City FC launched its anticipated Youth Soccer Partner Program in March 2017 through an alliance with Medford Soccer Club.
Youth players and coaches from Medford Soccer enjoy multiple benefits, including match day activities, coaching and player education and merchandise, as well as Boston City player and coach inclusion in the Medford community.
The Boston City FC Youth Soccer Partner Program was designed to engage multiple youth soccer clubs and programs in the area, providing an opportunity for higher levels of player training, coach education, inclusion, entertainment, inspiration and motivation.
Medford became the first local community soccer organization to take advantage of this initiative and receive tickets, a signed Lions jersey, and presence on the www.BostonCityFC.com website to highlight the alliance. Medford Soccer players and coaches will also participate in unique experiences at a BCFC match during the National Premier Soccer League season, which runs from the end of April through July. Coaching education and in-game coaching experiences is another highlight of the program.
"I am excited to welcome Medford Soccer Club as the first of several youth soccer partner announcements," said Boston City FC managing Director Craig Tornberg. "Their quick understanding of our community mission and their enthusiasm toward our organization will set up a successful platform between our organizations for years to come.
"We have created this partnership to include key elements that discussions with local youth soccer programs told us were important in order to form a meaningful relationship with Boston City FC."
The young Medford Soccer enthusiasts will also learn skills and fundamentals from the players they cheer on from the stands when Boston City FC introduces its 'Pitch Invasion' – a unique takeover of a local youth club's training session.
Players will arrive in Medford via the Boston City FC-branded bus and will literally 'invade the pitch' as they take charge of that practice session, passing on their knowledge of the game to players and coaches alike.
"We are extremely excited to be partnering with Boston City FC," said Sean Falvey, President of Medford Soccer. "We are fortunate as a club to still have board members & volunteers like myself and others that grew up in the program decades ago. We collectively share a passion to showcase Medford Soccer as the club that embraces soccer players from all skill levels. Looking at the benefits for our players, coaches, referees and administrators, along with the close proximity and access of the club, it was an easy decision. We can't wait to kick things off."
Local soccer clubs and programs interested in partnering with Boston City FC to enjoy similar benefits should write to Contact@BostonCityFC.com or call 617-513-0202.